Are you tired of hosting the same old office Christmas party every year? Why not shake up the mundane corporate life with an outdoor escape game? These interactive experiences are guaranteed to provide the perfect blend of team bonding and holiday fun that will have your guests talking about this year's party for months to come.
What Are Outdoor Escape Games?
Outdoor escape games are exactly what they sound like: scavenging adventures that you can take with you outdoors. How is that possible, you may ask? Well, all the technology you need to have a fun, immersive experience is contained in your iPad. Using only your phone and a few complementary gadgets for extra immersion, you can embark on your very own realistic puzzle-solving adventure without leaving the comfort of your city!
How Do They Work?
Game developers have taken advantage of developments in AR technology to create these engaging experiences. To get started, all you need to do is break up into teams and follow the instructions on your screen. Before you know it, you'll find yourself lost in an immersive storyline as you solve riddles, make friends with AR avatars, and travel to real locations according to your online map.
Benefits of Playing Outdoor Escape Games
Outdoor escape games offer the perfect blend of reality and augmented reality. Accompanied by AR avatars, you will see your city in a way you've never seen it before, creating new memories in already familiar locations with your friends, family, and coworkers. Who knows, your typical lunch spot might be transformed into a place of mystery and intrigue. Have fun reminiscing about the game the next time you head there with a few coworkers.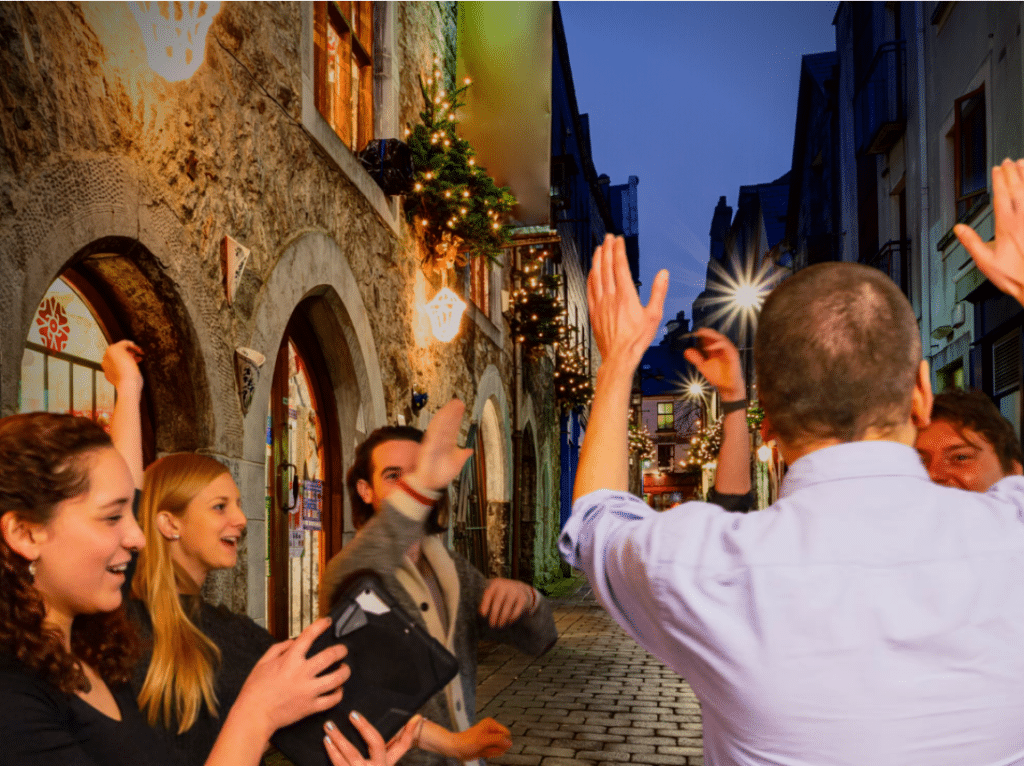 An outdoor game is also great for mental, emotional, and physical health, especially in the winter. Being cooped up inside all season can make anyone feel down, even when playing games. Refresh your body and mind by leaving the office and heading outside for a delightful combination of mental and physical exercise as well as a much-needed change of scenery.
The Perfect Company Christmas Party
In 2022, company Christmas parties are more important than ever. The last few years have been tough on businesses in all industries, and office leaders need to find ways to show appreciation to their employees who have stuck it out. After all, a business can never be expected to thrive without loyal employees pushing through even in the toughest of times.
When it comes to celebrating Christmas at work, you need a company event that will be inclusive of everyone, interactive, and a fun way to forge lasting bonds within your team. An escape game is a perfect solution, and here's why!
Why Choose Outdoor Escape Games
Traditional office parties can feel a bit stiff and awkward. Some employees might even feel more like a punishment, especially when the only topic of conversation is whatever has been happening at the office lately. Outdoor escape games are a great source of entertainment that prevent awkwardness and start-up lasting conversations to build stronger connections. Plus, who wouldn't love to take a trip out of the cramped office for a little while?
Making Your Company Christmas Party Even Better
Food, decorations, and gifts are important pieces of any Christmas party. But entertainment trumps them all. Without a fun incentive, some employees may leave the party early or not even show up in the first place. To make the most of your holiday party and convince your employees that it really is possible to have fun at work, you need more than some good appetizers and a Christmas tree.
Sure, there are the usual holiday games like White Elephant, Christmas bingo, or charades. But why not shake it up and try something new that will take your party to the next level? The immersive world of an outdoor adventure game not only breaks up the mundane feeling of work life, but it might also inspire creativity in your team, leading to some great ideas in the new year!
Choosing the Right Outdoor Escape Game for Your Company Christmas Party
If you're interested in planning an outdoor escape game for your company party, but you're not quite sure where to start, try breaking it down into 3 easy parts: theme, location, and size.
1. Theme
Before you can decide anything else about a holiday party, you need to settle on the theme. Feel free to be as creative as you want! If you want to create a fully immersive experience, you should embrace the theme of your outdoor team game.
For example, Cluetivity's new Blackout game is the perfect choice for a holiday party. Fill your Christmas with intrigue and mystery as you unravel the scheme of a group of hackers who have caused a citywide blackout.
It's up to you and your team, with the assistance of your new friend Bad Santa, to solve the puzzles and avoid catastrophe. Embrace the spy theme by encouraging your employees to dress up or even bring props.
2. Location
Now that you know your theme, it's time to choose a location. Depending on the availability of your team members, you could choose to do an in-person event, a virtual event, or a hybrid of the two. If you want to get away from the office, you could also select a local venue or even offer up someone's house as the base of operations.
No matter what, you should consider the following factors when choosing your party base: number of guests, travel time, and price of the booking.
3. Size
Knowing how many people to expect is also essential, especially when it comes to ordering food, drinks, and props. You want to make sure you have enough for everyone without going overboard on your budget. Try to have your guests RSVP in advance so you can gauge attendance before making the final arrangements.
Conclusion
If you want to make this holiday season special, try spicing up your traditional office party with an outdoor escape game. Cluetivity offers a variety of adventure games with various themes to perfectly fit the vibe of your office. Book a demo with us today to get exclusive access to our state-of-the-art software and lose yourself in a fun new reality with your friends.