Escape room owners often reach their limits quickly—limited space, small catchment area, tight budget etc. But let's not talk about restrictions. Instead, we want to show you five ways you can expand your escape room business.
In recent years, the escape room industry has undergone many changes. Large franchises continue to grow, while smaller, independent operators find it more and more challenging to survive. However, there's no need to get involved in a discount war against your competitors to stay alive. By following our tips, you can ensure that you're doing the most to grow your escape room, expand your reach, and discover new audiences!
1. Open up your escape room to corporate clients
Our first tip isn't a direct expansion of your escape room, but it is a tip that can increase your sales significantly. Consider offering team events for companies! More and more companies are using escape rooms for team-building events, staff development, or as part of recruitment processes.
Michael Meinke from the Association of Live Escape and Adventure Games (FvLEAG) describes in an interview a little more about what is behind the usage of escape rooms in team events. He states:
"The use of escape rooms for an assessment center, as a marketing tool, or as a team building measure is still relatively at the beginning of the possibilities. I think a lot about it myself. For example, you often experience a job applicant very differently in an interview than in an escape room."
Hosting team events means having a lot of players at the same time
As businesses will be more inclined to play between Monday and Friday, you can fill out appointments during quieter hours. They also usually come in much larger groups than your average booking, so ensure you are well prepared!
But how easy is it to connect with companies? The first and easiest step is to set up a landing page for businesses on your website's homepage. Whenever someone visits your site, one of the first things they'll see is that you're now offering corporate events.
Make sure companies get a great experience with you.
But how easy is it to connect with companies? The first and easiest step is to set up a landing page for businesses on your website's homepage. Whenever someone visits your site, one of the first things they'll see is that you're now offering corporate events.
Using Google Ads and Facebook Ads, you could also target prospects likely to be responsible for organizing corporate events – for example, HR Managers. Connecting with professionals has never been more accessible with access to networks such as LinkedIn and Xing. If you prefer to meet with people face-to-face, try exhibiting at HR conferences or other B2B events. If you want to expand into corporate events but can't entirely host over 100 participants, you might want to consider our next tip…
2. Offer outdoor activities
Imagine this: a medium-sized local business is planning a big team event and is keen to book your escape room. However, you don't have access to a spacious enough area for the players. That's no problem if you also offer outdoor escape games.
Using state-of-the-art augmented reality technology, games such as Blackout, Magic Portal and Operation Mindfall combine the best of scavenger hunts and live escape games and offer an AR teambuilding experience. What's the aim? Players explore places in their city, scavenge for clues, and crack tricky riddles to solve their mission.
In Operation Mindfall, players take over the role of secret agents.
Cluetivity's ready-to-play games are also customizable. You can create puzzles centered around your area or even tailored to your client's individual booking. To make the experience even more realistic, each of Cluetivity's games comes with Agent Packs, with high-tech gadgets and tools to help your players complete their mission.
Whether you're on the client's premises, in your town center, or even in an open field, Cluetivity can be set up anywhere in less than 30 minutes, making it the perfect additional service for your business. Our existing partners include escape rooms, team building and events companies, tour guides, paintballing businesses and laser tag arenas.
3. Be number one in marketing
Marketing plays a crucial role in the success of an escape room. Only those who find you on the internet can book with you, and having a website with booking capabilities is now the bare minimum.
It's essential to be present in search engine results. For example, if someone searches for "Escape Room Buxtehude," you ideally want to be the first search result.
If there are a lot of competitive results above your website on Google, it's time to invest in ranking high with a 1-keyword ad. This is called Search Engine Advertising (SEA). The amount it costs varies from case to case, but this is something that we will discuss in a later post.
The online marketing for escape rooms doesn't differ much from marketing for other small businesses. But since many people gather information online before they book a game, you should definitely optimize your efforts as much as possible.
4. Build innovative, forward-thinking new rooms
One crucial thing to remember is that people don't want to play in the same escape room twice. So, if you want your customers to come back, you'll need several rooms with different scenarios.
The storyline possibilities are endless. Whether you are robbing a bank, escaping from another dimension, or regaining control of a driverless train, you can simply purchase ready-to-assemble rooms and have them installed by your vendor. The advantage is obvious – the effort required from you is minimal.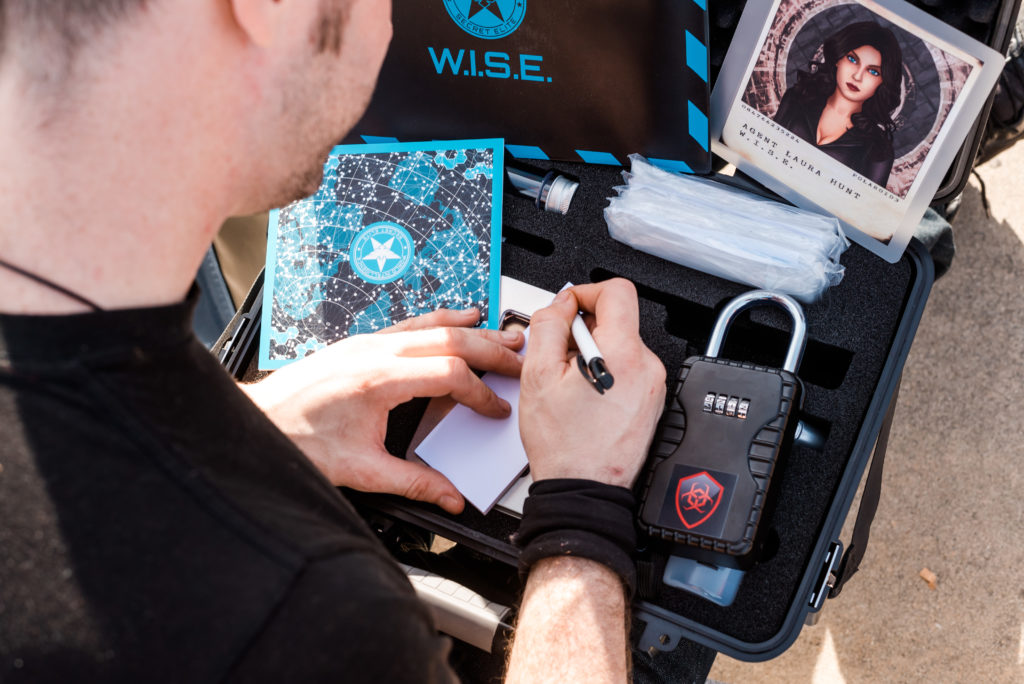 Building stable props and creating well-balanced puzzles are the biggest challenges when setting up an escape room.
Alternatively, you can conceptualize your own stories and create a niche in your market. However, this can be quite a time-consuming task. Among other aspects, you must write a compelling narrative, develop challenging puzzles that are neither too difficult nor too simple, and visual design elements to make your storyline come to life.
Even though it requires a lot of effort, more than 80 percent of surveyed escape room operators say that they develop their concepts independently or with their business partners. How creative!
5. Think big and create a second location
If one escape room isn't enough for you, or you've just exhausted all the space in your current location, consider opening a new branch. The expansion also, of course, comes with a great deal of effort and risks. But, as we discussed earlier, small companies are becoming increasingly difficult to assert themselves. Therefore, you will have to make some big business decisions sooner or later.
Before deciding on an additional branch for your company, you should ask yourself a few questions:
What are my competitors doing?
Should I stay in my location or expand to a new area?
What revenue can I realistically expect at the new location?
What are the requirements for a new property?
Are additional investments necessary? For example, fire protection.
How do I announce my new escape room?
The amount of risk involved in expanding is almost comparable to the amount of risk involved in finding your first business. Whether or not you want to take this step, you can only decide for yourself. However, there are already around 400 providers with more than 1,000 rooms in Germany alone.
Is the investment in another location too risky for you? Outdoor games and city rallies can be a far cheaper alternative. The setup costs are low, no additional team members are required, and the possibilities are endless. Feel free to get in touch with us, and we will be more than happy to advise you on how to integrate AR gaming into your business!